The battleship known as The Billy Ruffian was used on Canadian currency
Bellerophon was at Jutland as part of Admiral Doveton Sturdee's 4th Battle Division. She left the battle undamaged and had fired around 62 heavy shells.
When Bellerophon later crossed the area where Rear Admiral Horace Hood had been killed with almost his entire ship's company, a 19 year old "snottie" (a term, I won't say of endearment, used for midshipmen in the Royal Navy), commented on the terrible carnage.
"During the lull we came out of the turrets to get some fresh air and there, floating around us, was a whole mass of bodies and débris – some of our sailors were cheering because they thought they were Germans, but unfortunately they were from the Invincible. It was a terrible experience and my first experience of death."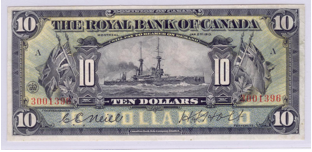 HMS Bellerophon was on the Royal Bank of Canada's 1913 $10 note.
Imperial War Museum HMS Bellerophon community :
https://livesofthefirstworldwar.org/community/2799