One of the four Queen Elizabeth class battleships at Jutland serving under the command of Vice Admiral Sir David Beatty, the Malaya was heavily damaged at the battle but « gave as good as she got ».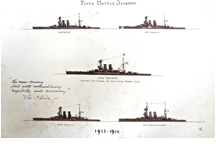 Silhouettes of the five powerful 15inch gunned Queen Elizabeth class battleships, four of which fought at Jutland (private collection)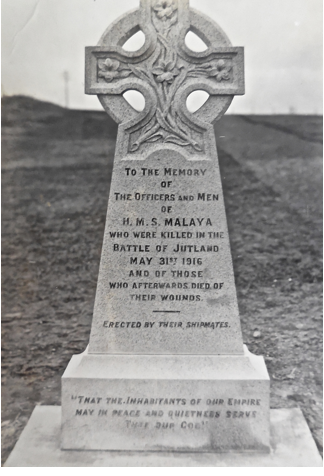 The commemorative headstone to Malaya's fallen at Jutland at Lyness naval cemetary (private collection)
Not all of Malaya's dead were buried on land. In fact, one of the most poignant photos that I have of Jutland is the burial at sea from Malaya after a signal had been sent Jellicoe, acknowledged and agreed to:
"5th Battle Sqn to Jellicoe – Permission for Barham & Malaya to commit some KIA to the deep. Reply: Approved".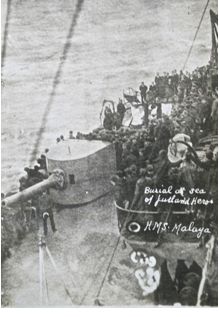 Burial at sea of Malaya's fallen at Jutland (private collection)
SOME MORE STORIES :
Imperial War Museum HMS Malaya community :
https://livesofthefirstworldwar.org/community/2722